Time for School!
The time of summer fun is coming to an end, and it's time for school bells, homework, packed lunches and football. The time of year that some may hate to see come to an end, and others… well let's just say they are ready for the kids to have a change of pace.
With this comes the necessity of organization to make life easy for the mad dash out the door each morning. Here we will offer up some suggestions to organizing an area, not only for making the morning exit easier, but also a great place to tackle to homework each day, and setting your child up for success.
​Setting Up Your Homework Station
1. Find an area that provides adequate study and storage space.
2. Place hooks on the wall for the book bags to hang.
3. Hang organizational baskets for keeping important documents.
4. Create a charging station for laptops/tablets and cell phones.
5. Use clear divider trays in desk drawers and stock with extra pens, pencils, tape and other essentials.
6. Dry Erase / Bulletin Board / Calendar to track information of upcoming assignments and events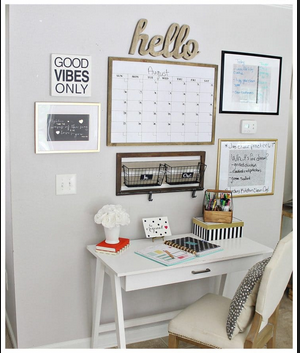 Combine a great work space and the habit of placing items where they go, and you will be all set for less stressful mornings out the door, and more productive homework time.
Want to add a little more time to your day and busy school year schedule. Allow DustBusters to take on the task of keeping your home clean with scheduled cleaning service. Spend time doing what you love, and we will do the house work.
Have a great 2018-2019 school year.
​